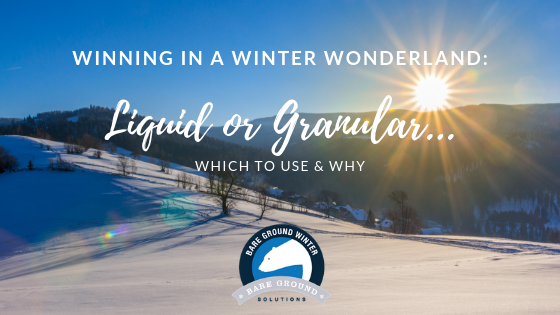 Welcome to the second post in our "Winning in a Winter Wonderland!" blog series! Bare Ground knows its important to understand the various ways to beat ice and snow – what products to use, when to use them, how to apply them, and so on. With all this information at your fingertips on granular ice melt and liquid ice melt, winter will have nothing on you!
In the first post of the series, we talked about MagPlus, Bare Ground's liquid magnesium chloride ice melt. It's a USDA BioPreferred product, and one of our favorites – especially for households with pets! However, you may notice that when you're out in the stores, one of the most common forms of ice melt is actually granular. So…how do you know which one you should be using? Should you be using both?

There are clear benefits to both liquid and granular ice melt. Both will effectively remove ice, but the best choice for you really depends on your needs and goals. Let's take a look at the top 5 benefits of both forms of ice melt.

Granular Ice Melt
Melts through thick ice
Stays active and the granules last longer
Dilutes less when the snow and ice start to melt, therefore staying more effective
Easy to apply – just toss and spread
Use it to melt isolated residual patches after a storm
Mag Plus Liquid Ice Melt
More environmentally friendly and USDA BioPreferred
Lighter in weight and easy to apply
Can be used before, during, and/or after a storm
Less corrosive and safer for plants, pets, and all surfaces
Has a residual non-stick effect and can reduce the accumulation of snow by up to 2″
When it comes down to making your decision about which form of ice melt to use at your home or business, there are four main factors to consider. Before making your purchase and combating the snow and ice, take stock of location, duration, protection, and application.

Location
Take inventory of where ice accumulates on your property. Does it occur in concentrated areas, or is it more wide spread? Are they more thick patches or thin sheets of ice?

Duration
How long is the weather or cold snap forecasted to last? If it's a long storm, dilution and application will be important.

Protection
What is important to protect? Do you have new brick hardscaping or gorgeous plants and shrubs to protect? Do you have furry family members with sensitive paws? If so, Bare Ground's MagPlus Liquid Ice Melt is the better choice for you.

Application
Who will be applying the ice melt? Does the weight or method of application make a difference?

Looking at the benefits of each kind, and taking the four factors into consideration, you will be well equipped to make the best ice melt decision for your property, protecting all of the lives and landscaping you hold dear!